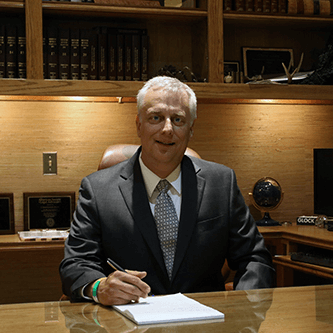 J. Christopher Allen
Attorney at Law
I am a lifelong resident of Lebanon and Laclede County, Missouri. I am married and my wife and I have three sons, two daughters, and two grandchildren. I am a graduate of Lebanon High School, earned a business degree (BA) from Drury College, and earned my law degree (JD) at the University of Missouri at Columbia.
I have practiced law in state trial and appellate courts in Missouri and also in federal trial and bankruptcy court in Missouri along with practicing law in front of a number of administrative agencies. I am able to serve my clients with a wide range of knowledge and experience from successfully handling many different types of legal matters over the years. I enjoy the practice of law, dealing with people, and solving issues and problems big and small.
I am a Member of Heritage Baptist Church in Lebanon, where my wife and I teach Sunday School, and serve various roles in the church. I have served as an Executive Board Member of the Missouri Baptist Convention in Jefferson City, Missouri. Served two terms as board member and officer of Lebanon R-3 School District. Past President and Board member of Lebanon Area Chamber of Commerce. I have served on several other community boards and professional boards outside my community over the years. I represent a variety of individuals, corporations, LLCs, businesses, not-for-profits, churches, and public and governmental entities.
I am the City Counselor for the City of Lebanon, Missouri since 2014. It is a true joy for me to represent my hometown and the citizens of Lebanon. I have been named a top area attorney in polling by readers and subscribers of the Lebanon Daily Record newspaper and named "Best of the Best" Attorney by voters, readers, and subscribers of the Laclede County Record newspaper in 2022. I've also been selected in 2015, 2016, 2017, 2018, and 2019 as one of the top 100 Family Law Attorneys in Missouri by the American Society of Legal Advocates. I have a rating of 10 out of 10 on www.Avvo.com which is considered the highest possible legal rating being considered "Superb" under their legal rating system.
I am privileged to be a board member and officer of Project Hope, Inc. in Springfield and Kansas City, Missouri, and a board member of Kingdom Sport/Macedonian Ministries in Nixa, Missouri. I am blessed to be a part of both of these non-denominational not-for-profit organizations which meet the physical and spiritual needs of people in Nicaragua, Haiti, Mexico, and around the world.
Outside of my legal career, I enjoy spending time with my family, participating in mission work in Haiti and Nicaragua, as well as travel, sports, outdoor activities, farming, welding, metal work, woodwork, design, fabrication, and building.
Our law firm's moto is: "Trial tested and on your side!" I enjoy helping people and solving legal issues and problems. There is no substitute for knowledge, ability, experience, and a sincere desire to help people in very difficult situations.
---
Bar Admissions
Education
J.D. - University of Missouri School of Law

B.A. - Drury University